Stretching is an important part of virtually every fitness program.  Until recently, most experts recommended that people stretch before exercise.
However, when it comes to stretching, most people are surprised to find out that stretching does NOT prevent injuries, especially for athletes and competitors (1).
Equally alarming is the fact that a certain type of stretching can detract from our strength.  The form of stretching called static stretching, which is performed by holding your body in a fixed position for 30-60 seconds, can decrease your strength output if done immediately BEFORE exercising (2).
So, if stretching does NOT prevent injuries, and static stretching decreases our strength performance when completed immediately before exercise,  why bother with any flexibility training?
Well, a certain type of flexibility training can help you feel better, alleviate soreness, perform better and may decrease your risk for injury.  It's called self-myofascial release.  Learning self-myofascial release is the most important thing we can do for stretching.
From over a decade of experience training clients, I've been teaching clients how to do self-myofascial release techniques with a foam roll. And, approximately 90 percent of them benefit from it.  Prior to beginning a workout, using the foam roll helps to optimize blood flow to improve fitness performance, alleviate pain and improve flexibility.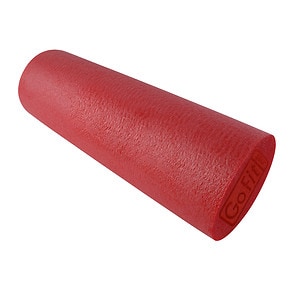 If you'd like to learn more about the foam roll and how it works, check out Keep on Rollin'.
For a free Ebook on Foam Rolling with specific exercises, click Muscle Mauler MAX ebook.
REFERENCES:
(1) American Academy of Orthopaedic Surgeons. "Stretching before a run does not necessarily prevent injury, study finds." ScienceDaily. ScienceDaily, 20 February 2011.
(2)  Scandinavian Journal Medicine Science Sports, 17:54-60,2007.
RELATED ARTICLES:
How Should I Warm Up My Muscles Before Stretching?
What's Up with the Warm Up and Cool Down?
Join Hundreds and Hundreds of readers, e-mail subscribe to "On Inspired Living" in the white box at the very top of this post or click our logo below for details.